By Mark Dowsett
I started the XCanada National Contest in 2012 as an early adopter of the National contests offered by XContest internationally. I think it is a really fun way spark some friendly rivalry between friends but more-so, it is a fantastic learning tool to see exactly what your flying friend did differently on any given flying day from you and how it resulted in a different flight than yours. I have a feed on the National contest so I get notified daily on XC flights posted across the country.
XContest has evolved since I started using it – XC Buddies shows other pilots that had similar flights that day on any given track and allows you to overlay multiple flights right in your browser. Their XCTrack iOS app is fantastic for a free flight computer app and can act as an automatic digital log book that auto-uploads your flight to XContest when you get back to WiFi. The more tracks that go into XContest, the more we all learn from them.
Another feature I didn't really realize until very recently was the Airspace feature. I have known for years that you can turn the layer on when looking at a track and that has been a great educational tool for showing new pilots what to look out for when venturing out on XC.
The part I didn't know (and the part I'd like help with), is using the Airspace admin tools to help with the XCanada XContest scoring. I didn't realize that we can administer the airspace ourselves. I now have admin access to the airspace admin and the power behind it is we can enable or disable warnings or auto-disqualification of flights based on the settings WE put into it. I didn't even realize there was an admin tool that you can 'disapprove' flights for XCanada for those flights that violate airspace.
It is a big job and one that I could use a local expert in each Province/area to go through the airspace in XContest and set rules and enable/disable what we need. The result will be a fantastic learning tool for all and reward those pilots in XCanada with their proper XContest score.
Here is a screenshot of the XContest Airspace tool…it looks very similar to Peter Spear's Cdn Airspace Viewer….and Peter has graciously already offered to help me out with some of this.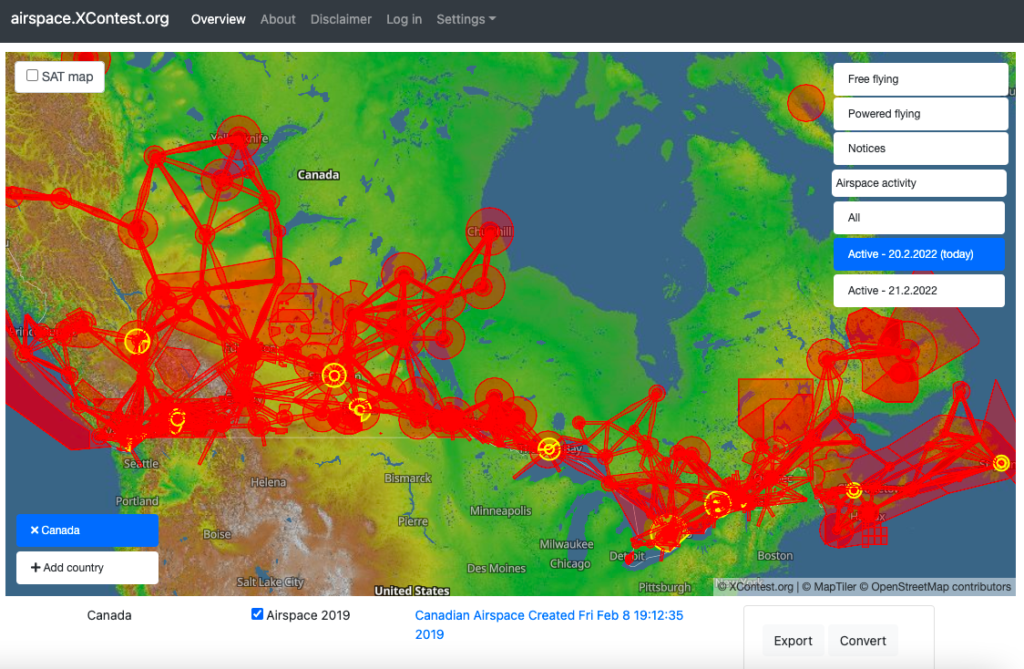 https://airspace.xcontest.org/
So please drop me a line if you want to help with this project and what area/sites/Province you can help with: mark@dowsett.ca