By Adam Chappell, Benoît Brunet-Poirier, Omar Dabaghi-Pacheco
Up until recently, the paragliding scene in and around Canada's capital consisted of a handful of dedicated pilots meeting on launch from time to time.  In 2019, a few of us decided it was time to grow our community with a focus on safe instruction and mentorship. Northern Glide has become the hub for our efforts. In our first season we brought dozens of new faces into the sport through both tandem discovery flights and formal course instruction. We are now the first HPAC-certified school in the National Capital region.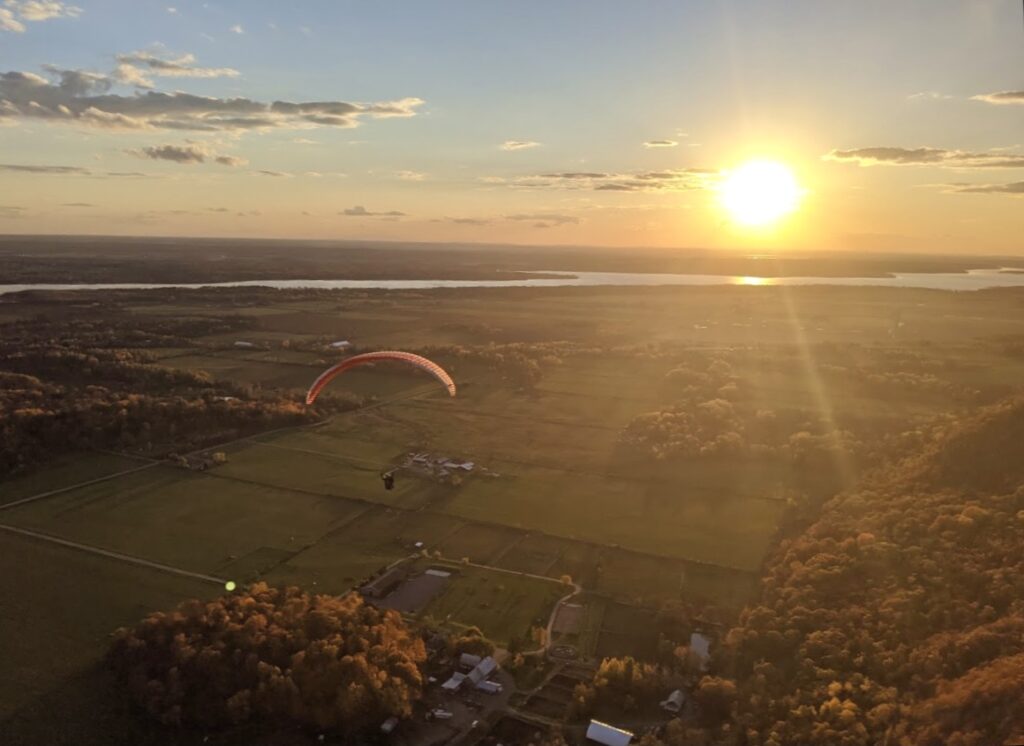 Our various sites in the Ottawa/Gatineau area are hike-and-fly specific, so flying in our area requires patience, a moderate level of fitness, and lots of motivation to fly.
On flyable days, there's almost always a Northern Glide instructor on launch to make sure everyone launches safely. On good dynamic days, we can get hours of ridge-soaring. When the thermals kick-in, some of our pilots have logged 100km+ XC flights. But, even a humbling sledder is cause for celebration, if only for the unique view of the Ottawa river and surrounding hillsides.
Canada's capital has had pilots since the late 1990's, but different scenes came and went. We've honed skilled pilots – veterans of the sky and regular competition winners. What we've been lacking has been community, and certified instruction for new pilots looking to get into the sport. We're working to change that through Northern Glide.
Northern Glide is a collaboration between three local pilots, Adam Chappell, Omar Dabaghi-Pacheco, and Benoît Brunet-Poirier. We've combined our varied skills, time and experience into creating a paragliding school and gear-store with a simple goal – to build a community of pilots, share the skies, and grow our wings.
Our mission is to make Northern Glide the ambassador for our sport in the National Capital region and a guide to safe progression for fledgling pilots.
Since getting this project off the ground, we've raised money for charities, established new relationships with landowners, and celebrated our growing community every step of the way.
Paragliding can be a very solitary experience. But, landing far, knowing a retrieve is only a phone call away, reminds us a community has our back, in every aspect of our progression.
We fly all year 'round. So, if you're looking for friendly advice, safe instruction, or an exhilarating tandem, look us up! If you're in need of gear, we are official Air Design, Supair, Kortel and Syride dealers. And if it's a flyable day, you can bet we'll be making our way to launch. Hope to see you there!
Follow our shenanigans @Northernglide on Instagram and Facebook.
Adam Chappell, Benoît Brunet-Poirier, Omar Dabaghi-Pacheco