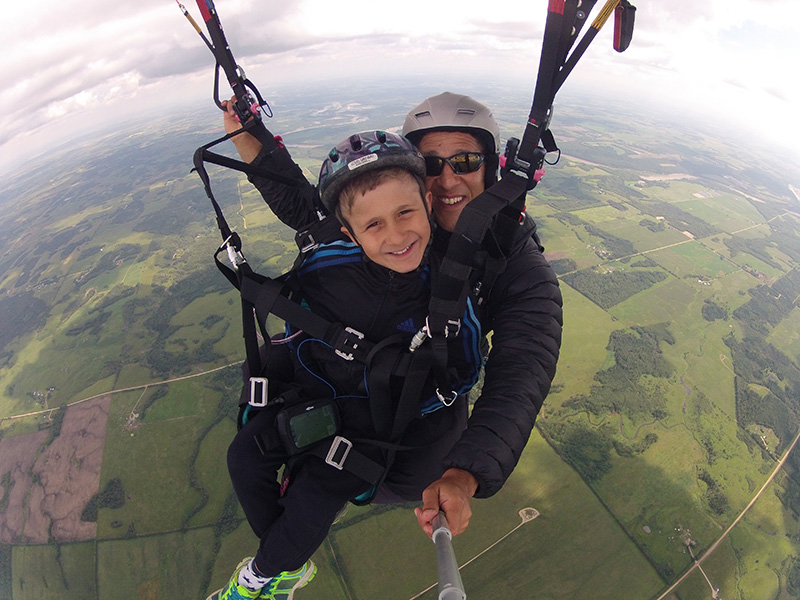 We offer a unique opportunity to learn how to fly on the simplest and lightest forms of aviation in Drayton Valley Alberta, at only 1 hour 15 minutes west of Edmonton or 3 hours North of Calgary. Free fly with a Paraglider or power your way up with a Paramotor (Powered Parachute). Add extra power and speed to come aboard of an ultralight Trike or feel like in a James Bond movie aboard our Gyroplane. Our aircrafts are insured and instructors are certified by Transport Canada and the Hang Gliding and Paragliding Association of Canada.
Air Adventure Flight School was established in 2016 but our Paragliding Senior instructor had been flying since 1992 and teaching since 1994. Our Novice Paraglider courses are 6 days long, thanks to the hydraulic winch and golf carts we use for the training. We are proud to be direct importers for some of the best paragliding equipment manufacturers in Canada.
The school has a classroom, clubhouse, kitchen, bridge, BBQ, clean bathroom and shower with hot water in a heated cabin, camping area with electrical hookups, swimming pond, fire pit, picnic tables and recreation area. You can not only come to learn to fly but bring the family along and all have a good time.
We are passionate about flying so we teach 7 days a week including weekends and holidays during the flying season, May to October. You can book your course anytime as long as we have the days available, there are no set days or need to join a group for the Paragliding course.
Take a look and see what sets us apart from other schools. In the video presentation you will get a better idea of our facilities and the activities we have to offer.
info.airadventure@gmail.com
School video https://youtu.be/1-s6cY3LqQY
Claudio Mota, Senior Instructor, HPAC/ACVL