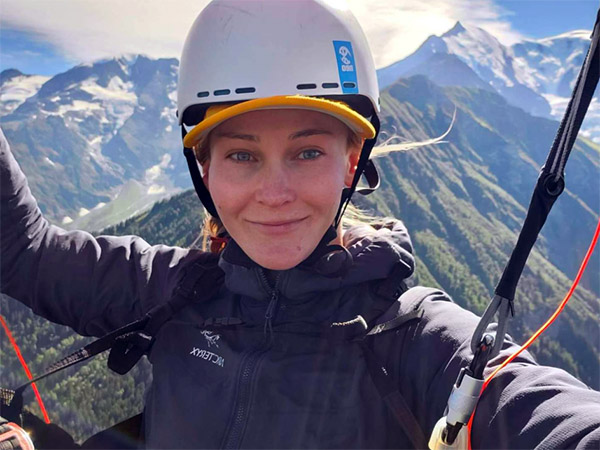 September 3, 2022
While it is with heavy hearts that we all gather here today, in this beautiful place, to remember and commemorate a dear friend, family member and fellow pilot let us all try to carry with us the love and light that Sam brought to the world and to our lives. I would like to think of this gathering more as a celebration of life. A truly amazing life! I'm sure Sam would rather be remembered in happiness.
Dealing with death, especially at such a young age and so unexpectedly, is never an easy thing.
While we will never get Sam back we will all hold her memory dear to our hearts and carry it with us as a source of inspiration.
Sam was a lot of things to many of us. She was family, both biological and of kindred spirit. She was a friend, she was a lover, she was a roommate and she was a fantastic partner in adventure. Throughout all these connections her character remained kind, thoughtful, and full of good natured humour and wit, as the countless tales of her ambitious exploits and adventures attest.
While there is an impressive list of achievements and physical activities that Sam exceled at, and that we all got to share with her be it; flying, mountain biking, climbing, running to list a few, she also cultivated great friendships through her intellect and gentle kindness.
Her intellectual curiosity and fortitude took her down the ambitious path of completing a degree in law and she was meant to start her articling in the fall of this year. She would no doubt have approached this in the same manner as her various other pursuits.
Once Sam discovered flying a paraglider, and the exhilarating sensation when your feet first leave the ground and you take flight, she was immediately drawn to it. It became very clear that she had found a path she wanted to pursue.
She would always have a big grin on her face and a twinkle in her eye when she would show up to fly.
Sam was certainly a dedicated practitioner to the craft whether it was flying her paraglider or speed wings and mini wings.
Most of us have stories of running into Sam on early morning hikes to catch the first flight of the day on a speed wing or mini wing only to come back up for some real flying with her paraglider later on the same day.
As her skills developed and she discovered the ability to thermal and keep flying for hours on end and fly from one mountain to another and onward it would certainly seem that she had found her calling.
On several occasions she left a number of us more experienced pilots in awe of her progression and most could only hope to keep up.
While Sam herself may never have thought much of it, I am going to clearly make the distinction on her behalf. Sam is the first and only woman to have flown Revelstoke to Golden and Revelstoke to Nakusp. That is a massive achievement! I can't possibly emphasize this enough! These are very committing flights that take you over remote terrain with limited options if things aren't going well.
For those of us that dream of big flights in the mountains, it's not a question of whether there will be risk, but rather, how we will deal with it. Sam dealt with that risk in a very calculated, thoughtful and mature way.
Despite the actual magnitude of her achievements in flying, Sam was never out to impress. She approached all aspects of her life with commendable humility. She always made her own decisions and if something didn't feel right for her, she never had a problem vocalizing her concerns and simply backing down.
On numerous occasions she spoke with me after a flight about the conditions and her thought process. I was always very impressed by her critical thinking and always encouraged her to stick with her gut feelings.
In addition to being a member of the flying community Sam took a genuine interest in helping to shape the future of the sport. She and a fellow pilot and close friend initiated the dialogue with The Hang Gliding and Paragliding Association of Canada and Parks Canada to open Glacier National Park to free flight. A huge step forward for which we are all indebted.
Sam had also just completed her tandem license, which needless to say requires a fair amount of skill, and I was very much looking forward to having her on our team.
She impressed and inspired many with her positive enthusiasm and perseverance. In turn we supported her and encouraged her along her path in pursuing her love of flying and being in the mountains.
It's great to have dreams, Sam certainly had big dreams and she was living them out to the fullest.
I doubt she had any real regrets.
May we always carry her shining light with us as we continue on our own journey.
Chris Delworth
HPAC Instructor T1