Randy Rauck has been appointed as the newest Senior Instructor of HPAC/ACVL by the Board of Directors at its recent December 2021 virtual meeting. Randy has a long history in the sport and is the owner/operator of the Lumby Flight Park in Lumby BC, which offers instruction in both hang gliding and paragliding.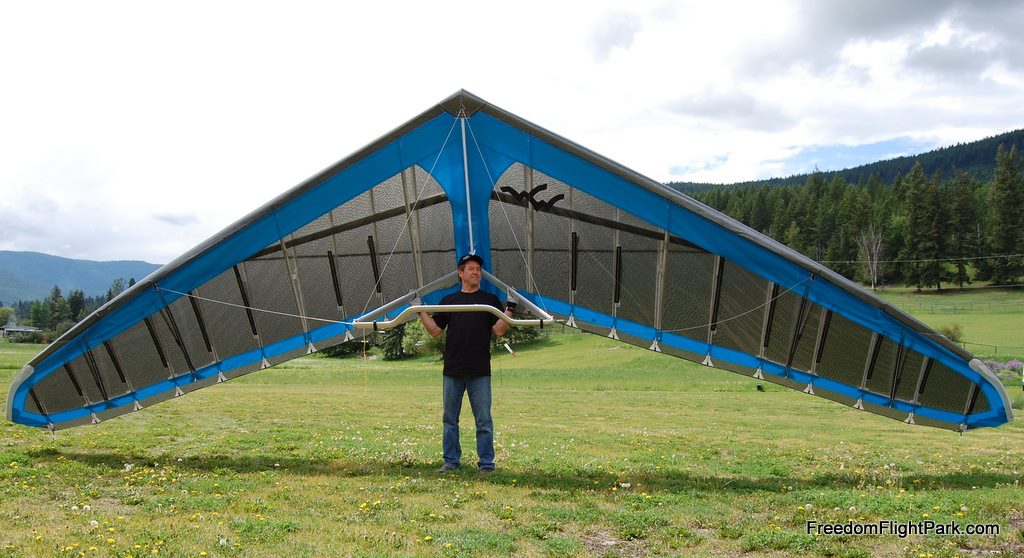 Here in Randy's own words is his background in our sport:
"I was first certified as a Hang Gliding Instructor in 1976 at one of British Columbia's first
HG Instructor Certification Clinics at Fairmont Hot Springs with Organizers Dean Kupchanko John Duthie and Michael Robertson. The Lumby AirForce Hang Gliding Club was also formed in 1976 and I was a founding member. I committed my time and expertise to this sport of Hang Gliding for a solid 5 years full time after my certification.
My achievements …I have logged over 1000 hrs in Hang Gliders and Over 2000 hrs in Powered aircraft and have taught many students to fly over the years.
I was one of the first certified Ultralight Flight Instructors in Canada in 1979 and maintain that instructor rating today. In 1987 I received my private pilot's License and am still a current licensed private pilot with a night rating flying my Cessna 175 Skylark I keep at our flight park.
In 1987 I also sold my Ultralight flying business in Pitt Meadows and moved to Mexico where I was an aviation consultant for a Mexican tourist sight-seeing amphibious aviation operation for 3 months and stayed for 5 years flying a Piper Cherokee 160 and selling beachfront Real estate.
In 1999 I lost both my parents so I moved back to our 75-acre family farm in Lumby and started developing the Freedom Flight Park and School again. I got back into Hang Gliding and was re-certified with HPAC and started teaching Hang Gliding again in 2005 utilizing my own hybrid hang gliding training system, incorporating our onsite training hill, scooter tow on our 3 long runways, and piloting our 2 place hang glider trike tandems in-air simulator for attitudes and movements and glide slope approach training.
I applied for and received a 30-year License of Occupation on behalf of the Lumby Air Force Flying Club for the Coopers Launch Free Flight Park shortly after.
I started promoting Paragliding instruction at our Flight Park in 2014 and we now have the Freedom Paragliding School operating here very successfully as a separate business for the last 7 years, under Dave Underwood and his team.
I am currently a Master-Rated HPAC HG pilot / HG instructor (My first aid has lapsed and I will renew asap) and have assisted Michael Robertson in two past Hang Gliding Instructor certification courses at our flight park in 2013 and 2016 and I ran the 3rd and last course here under his supervision April 25,26,27, 28, 2019.
Hang Gliding is shrinking quickly in Canada and I believe it will be a lost sport if we do not keep certifying new hang gliding pilots and instructors. I also plan to be breathing more life into our on-site Hang Gliding School in 2022 , which was only operating at a minimum level over the last few seasons, a decision I made due to COVID.
My goal is to preserve a portion of my 75-acre property as a flight park and help preserve the sport of hang gliding in Canada and support the paragliding school long into the future, as a legacy for me and our family.
British Columbia presently has no Senior Hang Gliding Flight Instructors and so I am willing and able to inspire and educate more Hang Gliding pilots and Instructors in British Columbia and Western Canada and would expect to run a minimum of one annual Hang Gliding Instructor Certification and or refresher Course from The Freedom Flight Park near Lumby BC starting in 2022.
Randy Rauck
Member # 2626"